Weather conditions
Today: Quite sunny and warm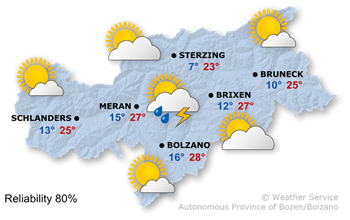 Quite sunny conditions with some cumuliform clouds in the afternoon, but only isolated showers or local thunderstorms. Maximum temperatures from 23° to 28°.
---
Less stable on Thursday
Thursday there will be a mix of sun and clouds with some showers or thunderstorms in the afternoon. Friday more stable conditions, summery and quite sunny, only isolated thunderstorms in the second part of the day. On Saturday summery conditions. Quite sunny also on Sunday but a increasing probability of thunderstorms in the afternoon.