Weather conditions
Today: Quite sunny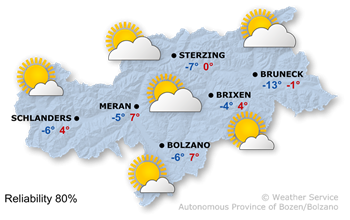 Sunny weather, some clouds from the North-East during the day. Föhn winds, especially in the North. Maximum values from -4° to 7°.
---
Tomorrow: Pretty sunny weather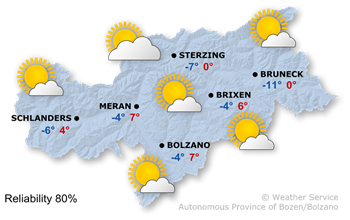 Saturday a mix of sun and clouds, windy in the North. Frosty temperatures in the morning, top values between -3° and +7°.
---
Sunny Sunday
Sunday very sunny, mostly clear sky. Monday at first sunny weather, later unstable conditions in the North with light snowfall on the border to Austria. On Tuesday residual snow showers in the very North, during the day weather improvement with North Föhn. Sunny weather on Wednesday.